About MogDB

MogDB New Features
High Availability and Performance
Open Source Components

Quick Start
Installation Guide

Simplified Installation Process
Standard Installation

Administrator Guide

Routine Maintenance
MOT Engine

Introducing MOT
Using MOT
Concepts of MOT
Appendix

Backup and Restoration
Importing and Exporting Data

Importing Data
Exporting Data

Security Guide

Database Security Management

Performance Tuning

System Optimization
SQL Optimization

Developer Guide

Application Development Guide

Development Based on JDBC
Development Based on ODBC
Development Based on libpq

libpq API Reference

Database Connection Control Functions
Database Statement Execution Functions
Functions for Asynchronous Command Processing
Functions for Canceling Queries in Progress

Stored Procedure
Autonomous Transaction
Logical Replication
Foreign Data Wrapper
Materialized View

Full Materialized View
Incremental Materialized View

AI Features

Predictor: AI Query Time Forecasting
X-Tuner: Parameter Optimization and Diagnosis
SQLdiag: Slow SQL Discovery
A-Detection: Status Monitoring
Index-advisor: Index Recommendation
DeepSQL

Reference Guide

System Catalogs and System Views

System Catalogs
System Views

Functions and Operators

System Administration Functions

Supported Data Types
SQL Syntax
SQL Reference

Expressions
Type Conversion
Full Text Search

Introduction
Tables and Indexes
Controlling Text Search
Additional Features
Dictionaries
Testing and Debugging Text Search

Appendix

GUC Parameters

Connection and Authentication
Resource Consumption
Write Ahead Log
HA Replication
Query Planning
Error Reporting and Logging
Statistics During the Database Running
Default Settings of Client Connection
Version and Platform Compatibility
Auditing

Information Schema
DBE_PERF

OS
Instance
Memory
File
Object
Workload
Session/Thread
Transaction
Query
Cache/IO
Utility
Lock
Wait Events
Configuration
Operator
Workload Manager
Global Plancache
Appendix

Tool Reference

Server Tools
Tools Used in the Internal System

Error Code Reference

FAQs
HA FAQs
Q1: What is the function of MogHA?
A: MogHA is an independent HA suite. It can handle multiple failures such as server or instance breakdown, thereby lowering the downtime from minutes to seconds.
Q2: What is the HA architecture of MogDB?
A: MogHA supports one primary database and at least one standby database or a maximum of eight standby databases (which is kept pace with openGauss of the latest version).
The architecture of one primary and multiple standby databases is optimized based on openGauss, in which RPO can reach zero and RTO is less than 10s. In other word, when the primary instance fails, the standby instance can take over services from the faulty primary instance within 10s, ensuring zero data loss.
Q3:What is the common deployment architecture of MogDB?
A: MogDB supports three types of nodes, including primary, standby, and cascaded nodes. The maximum number of standby and cascaded nodes totals eight, one primary node, four standby nodes, and four cascaded nodes, or one primary node and eight standby nodes. The following figure shows the production deployment architecture from one customer, including one primary node, five standby nodes, and one cascaded node.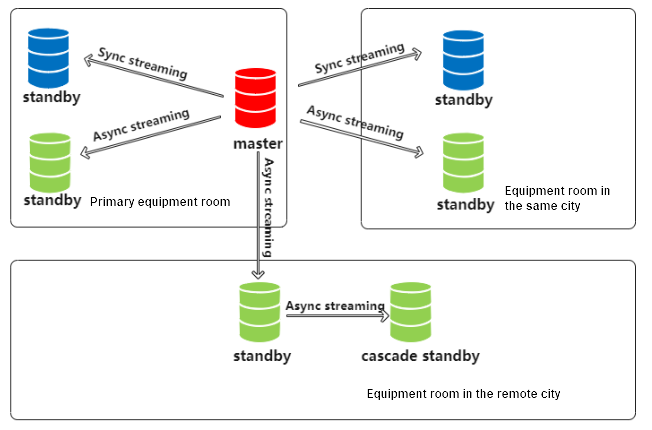 Q4: How is RPO/RTO of MogDB achieved? Can HA reach 99.999%?
A: RPO = 0, RTO < 10s, and SLA = 99.999%